EUROLASTIC TC 30 G traffic
Approved fast-curing polysulphide joint sealant specially designed for highly stressed joints in aircraft movement areas.
more...

EUROX EDS joint profile PS
You are looking for a very high chemical and mechanical resistant joint solution which may be driven over by forklifts?
more details
Innovation
EUROX EDS
Downloads
Fast, long-lived and approved by DIBt (German Institute of Building Technology)
Our many years of experience in the manufacture of approved, long-lived polysulphide sealants and epoxy resin mortar systems make us the ideal partner in storage, filling and handling facilities for water-polluting substances in compliance with WHG (German Water Resources Act). We also offer tried and tested system solutions for the most varied challenges and application areas.
Traffic areas
Chemicals and petrochemicals
Aircraft movement areas
Parking areas
Construction
Railway lines
Wind power and agriculture
Industrial and trade areas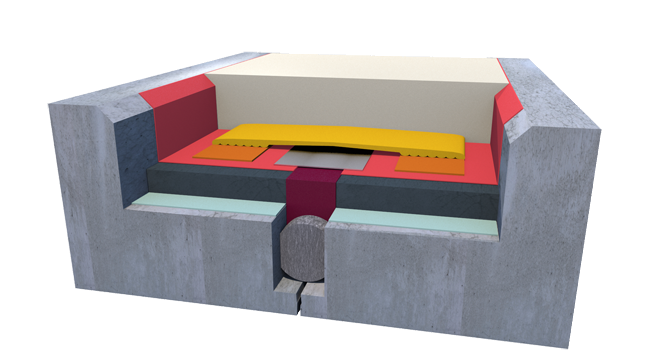 System solutions for soil and water protection
We have the appropriate system solution ready for every requirement! We offer high quality system solutions for both new construction and renovation work. They include approved joint sealants with short reaction times, long-lived joint tapes, flexible facade coatings and claddings, solvent-free epoxy resin mortar systems with high chemical resistance for concrete repair, as well as expansion joint profiles and grouts based on epoxy resin hybrids.
learn more
Product catalogue
Our product catalogue, with an extensive tool, additive and machine section, is available for Download
Customer centre
EUROTEAM Bauchemie GmbH • An der Mühle 1 • D-15345 Altlandsberg • Fax: +49 (0) 33438 1479-29
We are at your service to answer questions about our products

Monday to Thursday from 7:00 a.m. – 5:00 p.m., pickups until 4:00 p.m. and Friday 7:00 a.m. – 1:00 p.m., pickups until 12:00 a.m.

Please report just in time pickups prior to 2:00 p.m. from Monday to Thursday and prior to 11:00 a.m. on Fridays

Marion Naake
Tel.: +49 (0) 33438 1479-17m.naake(at)euroteam-bauchemie.de

Birgit Wendt
Tel.: +49 (0) 33438 1479-18b.wendt(at)euroteam-bauchemie.de
Office Kiel
Am Herrkamp 14a • D-24226 Heikendorf • Tel.: +49 (0) 431 6473 1363 • Fax: +49 (0) 431 5332 1126 • info(at)euroteam-bauchemie.de